When people experience their first love, many think it will be their one and only.

I did when I started college. So did my friend Steve*, who at the time was so happy that he found a girl he loved, until she found her way into another man's arms.

He reached out to me one night to vent. We ate a "cup o' noodles", drank some hot chocolate warmed from a hot plate. We walked into the chilly night, bundled up in warm sweatshirts, scarfs, and hats. We made a mountain of leaves to lay in and watched the night sky to make pictures out of the stars. We ended up looking diligently for a constellation named Pegasus, shaped as the legendary but mortal warrior horse. Upon the death of Pegasus, Zeus honored him with a constellation for his dedication.

As we giggled during our search, I felt myself secretly crushing on him, and believed it was mutual.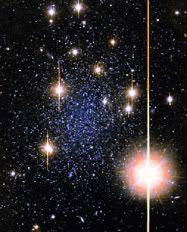 In order to find Pegasus in the sky, you have to search hard. It is quite difficult to see the figure as a horse because the constellation is actually upside down. Once we actually found it, our arms brushed and I felt a spark in my body. We were thrilled and decided that finding Pegasus symbolized getting though pain. Because it takes time and work to pinpoint it, but with the right effort and patience, one can grasp it.

Soon my boyfriend at the time broke up with me. I was devastated and went into hibernation for days in my dorm room. After awhile, Steve was fed up seeing me in pain, and whispered to me during class that is was time to find Pegasus again. He would pick me up later on.

That night in my dorm I heard two slow knocks. When I opened the door it felt like a heat wave hit my room, but it was not the temperature that was rising. I saw him standing there, and months of innocent sparks ignited up my leg and trailed down to my fingertips.

Not a word was said. The only noise heard was when he picked me up, and slammed me against the wall. Our built up tension started to release as our lips met. We kissed passionately and it seemed like only minutes, but must have lasted for an hour. Every thrust he pushed inside me made me see more and more stars. One of the few times I stars in random patterns. Later on we found Pegasus again, and I finally found some peace.

One day Steve was no longer around. He suddenly dropped out of school. We never even got each other's number. I even don't remember his last name. Rumor has it that he eventually went off to Iraq. Is he even alive today? I don't know. What I do know is that I will never see Steve again. I missed him, and will always wonder where he went.

Whenever I feel like I need to get through a rough time, I sit outside in the chilly night and look for Pegasus.

Love can appear in many forms. As I stare up above and search, I always feel the spirit of Steve hug me tight.



*Name has been changed.